PAINTINGS FROM 10 YEARS OF
THE ITINERANT ARTIST PROJECT
THROUGH DECEMBER 18
MERCER GALLERY
MONROE COMMUNITY COLLEGE



Review by Rebecca Rafferty
CITY NEWSPAPER


As a whole, Americans have become less adept at—or interested in— taking care of one another. We're a pretty closed-off society, seeking to sustain only our tiny units, and we don't put a lot of trust in strangers. While I won't claim that caution isn't warranted, I do believe that we've let our each-for-himself culture get out of hand. Rochester resident and artist Jim Mott is navigating a way back into the nation's narrowed avenues of trust and kindness. His work proves that we remember how to connect with and take care of strangers, and explores the deep mutual benefits in doing so.



Having experienced hospitality while in Europe as a college student, Mott was disturbed by our lack of openness here in the United States, where "increasingly, distrust and fear and the desire not to be inconvenienced seem to dominate our interactions with strangers… where 'visiting' is something we do on the Internet," he laments in the provided statement. His discomfort with this disconnect sparked the Itinerant Artist Project, begun in 2000. Through the IAP, Mott creates small landscape paintings in exchange for hospitality— room, board, and conversation. To find hosts, he "relied mainly on word of mouth; an e-mail chain letter announcing the project; and a classified ad in The Nation." Letting chance responses guide his trek across the country and through specific regions for a decade, Mott has been intent on his mission of "moving into other people's lives as direct action against virtual connections and the dematerialization of social relations."



Ten tours and 10 years' into this ongoing endeavor, Mott has transformed The Mercer Gallery into a room full of elsewhere—one person's take on many other people's realms and modes of living. The art is not edgy, but warm; in a way they are portraits of people he stayed with conveyed in tiny impression-y landscapes rife with focus and feeling. A certain gentleness of the soul is conveyed, and extreme appreciation and gratitude are apparent. "Something about sharing life for a day or two with people you're not likely to see again puts a poignant edge on interactions, an edge that seems good in a way and maybe should be there always," Mott explains in the provided excerpts of his journal.


Fifty of the best of 400 tiny landscape paintings done on tour, each measuring only inches, make up the show, grouped into sections based on various tours of the country, with info plaques providing the artist's thoughts and reflections on each trip. Also, on the walls behind the gallery desk are maps of the United States and specifically New England, where he did multiple tours, with lines and points that track Mott's journeys.



On pedestals and under glass are journals and paint-sketches on panels, with artist notes aplenty. One pedestal holds a computer monitor showing a looped video of Mott's spot on NEC's "Today Show." Also provided is a packet of excerpts from a journal kept during Mott's first tour, which reveals how he coordinated the project, how his openness and dedication made him unencumbered by fear of people, rejection, or failure (which is not to say those fears were never present), how he moved from frustration and dejection to focus on sometimes elusive bright side, candid moments when his project seemed self-indulgent, as well as delighted epiphany: "I could feel as profound a sense of belonging as I have anywhere".



The paintings vary vastly: cities, country, beaches, mountains, urban/rural, sunsets/rises, midday/deep evening, and every kind of weather. Lovingly painted minutiae, like an uncannily realistic scrap of ground dense with fallen brown tree-garments in the New England piece "November Leaves," are treated with as much profundity as immense regions of land like "View of the Presidentials," a bright expanse of fields and mountains in the distance, with absolutely glowing silver-lined clouds.



"Across from the Abbey" is a wistful gray atmosphere shot through with bursts of dazzling yellow trees in their sunny death-throes. Mott's brushy style serves the need for quick, efficient capturing; gestures of landscape and shifting weather are conveyed skillfully, catching the mood of a place, and pieces of himself in it. We can discern in different works a sense of peace, of loneliness, frustration, and exaltation. His journal confirms this: "I don't really do it intentionally, but I find that a lot of my landscapes turn out to have an autobiographical aspect".



I love everything about this well-examined life of his: the testing and proving of the willingness of strangers to connect with strangers, the daring, the apparent freedom coupled with initiative, the talent, and the expansion of the artist's own world, as well as the worlds of the people who host him. The art contains no flash, no shock, no pretentiously inaccessible concept, but still requires the viewers to think, to meditate on the simple and refreshing philosophy of connection, beauty and honesty.



"I wanted to fight the general tendency we have these days to withdraw," Mott says. "I wanted to contribute more to the fabric of human interconnectedness we call community and culture." Over the course of the project, media attention has generated offers from would-be hosts the world over, including Tasmania and the Gaza Strip. But Mott's new focus is his hometown. Near the gallery's door is another wall plaque, a 2010 proposal and call for Rochester hosts. "The heart of this project is trusting, being open to unknown possibilities," he says. Visit the gallery for an artist's talk Thursday, December 3, at 6 p.m., or contact Mott at jim@jimmott.com for more information.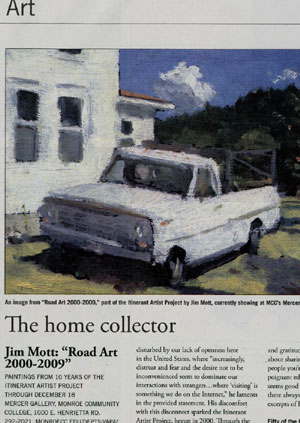 original review