ACROSS THE COUNTRY AGAIN; or
WHATEVER DOESN'T KILL YOU... MAKES A GOOD STORY

Being tailed for a day and a half by a cameraman from NBC's Today Show was not the most unexpected thing that happened to me on this latest road trip...

A few weeks earlier, in Missoula Montana, I'd received a speeding ticket, my first in 20,000 miles of art touring. When I asked the judge if he would accept art for the courthouse in place of the fine, he thought for a moment and said, "why not?" Being abducted by aliens wouldn't have surprised me more. His willingness to get into the spirit of the Project provided the highlight to an interesting but very demanding journey. And, as a friend pointed out, using one of my prints to pay off the ticket gave new meaning to the term 'fine art.'

The journey from Seattle back to Rochester, NY, was the 7th Itinerant Artist Project tour and my first cross-country excursion since the initial 2000 tour. Driving a used car I bought online for the trip (not recommended!), I covered 5000 miles in about six weeks. I made 15 stops in 10 states – most of them new to me; got to know many new hosts and places along the way; and did 55 small paintings. I also tried bartering for the first time, successfully trading my paintings, prints or greeting cards for commercial lodging, meals, museum admission, and – in what may be an unprecedented ruling – the speeding ticket.

The 2007 trip generated some of the Project's best stories and a lot of unexpected media attention, as well, including a feature article in the Christian Science Monitor (also posted on the ABC International website), an interview on Canadian CBC radio, and a day and a half of being filmed in action, along with a later interview, for the NBC Today Show. This was quite a change of pace for a painter who is more comfortable in the company of trees than in the spotlight.

The resulting 4-minute "American Story" segment aired 1/2/08 and can be viewd by clicking here.

The CSM article can be viewd by clicking here

An illustrated 2007 trip narrative is being developed here.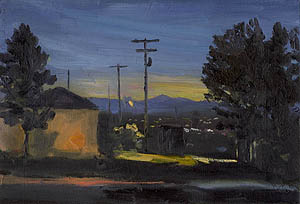 Edge of Salt Lake City at Night, oil on panel 6" x 9".
(click the image to enlarge; click back button to return).

The fourth of five panels I painted on my second day in Salt Lake City. I loved my time there. The air was soft. I'd just hiked up to a frosty alpine lake for a dip, just half an hour out of town. I did three paintings in the mountains and this on the way back home to my host Sue Martin's house. This scene remineded me of Tucson, where I grew up; I painted it full of excitement and nostalgia (and Sue's minestrone soup).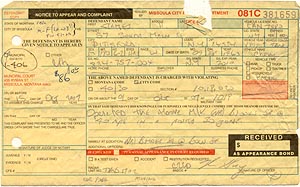 The Speeding Ticket
NOTES ON BARTERING

My several tours have left me fairly comfortable staying with strangers. After all, they have agreed to host me ahead of time and are usually both friendly and enthusiastic. Bartering, however, took more nerve than I usually have. Out on the road, though, the rules seem different, more seems possible. And on tour there's a certain degree of real desperation, a commitment to the idea of surviving by my art, which compels me to try.

Moreover, a true journey becomes an adventure that others are sometimes glad to participate in or to help along. Bartering was easier for everyone when I knew what to say. My standard line became, "I'm an artist trying to cross the country without spending money for anything except gas. Would you consider accepting art in place of money for this…?" One of my hosts pointed out that this was not just a disarming request and, usually, a good deal - but also an invitation to make life a little more interesting, to step outside the usual boundaries of established definitions for a moment.

For some people, that proved to be a welcome opportunity. For others, I'm afraid it was just an odd experience. One of my last barters was at Vinny's Diner in Worthington, Minnesota, not far from the South Dakota border. My next tour stop was in central Wisconsin, where NBC expected to film me doing a painting for my lunch at a family restaurant. I had traded an original painting for dinner at a cowboy bar called Cassie's, in Cody, Wyoming, but that was an exceptional occurrence. Painting for a meal was a new and, frankly, bizarre concept for my tour. I saw a painting as a suitable exchange for a few days' hospitality. For a $5 or $10 meal, my prints or greeting cards seemed a more fitting trade. But I figured I'd go along with NBC's wishes, and that meant I needed practice. Plus I wanted to add Minnesota to the list of states where I'd done some sort of Itinerant Artist Project exchange.

I arrived at Vinny's mid-morning, about 10 hours into a 15 hour drive. Somewhere back in South Dakota, I'd pulled off on a ranch road and slept for 2 or 3 hours in my car...and an hour or two just sitting there, strangely happy to be awake and doing nothing. By the time I reached SW Minnesota, I looked and felt run down. But Vinny's cheered me up; it was painted with pink, orange, lime green and white vertical stripes, and inside a real turntable played LP records. Allman brothers, Rolling Stones, Neil Young. A sign over the grill said, "No Music, No Cook." And I liked Vinny – a cool-acting young guy with an interest in more than just making a business work in his hometown. The food was standard, but the place was his own work of art.

My eggs, toast and coffee cost $4.90. When I was done, I gave my usual spiel about crossing the country, adding, "I'm happy to pay $5, but if you want I can do a 15 minute painting for the meal instead." The time limit was because I was running late.

There's a very interesting look, for about one or two seconds, while the person who has been asked tries to figure me out, make sense of my offer and decide. The look differs quite a bit from person to person but it's always complex and intense. When neither of us is too nervous, I enjoy watching it. Perhaps it's a privilege.

Vinny said, "OK, paint a picture with part of the diner in it" and went back to flipping French toast. Back outside I noticed that the diner wasn't just colorfully striped but also had tin roosters and chickens on the roof. So I attempted a composition featuring some of them. I spent almost an hour, sweating in the sun, and the result was not great, barely adequate. But it was the best I could do under the circumstances. When I brought it inside, Vinny gave it a quick look, said, "perfect" and slipped me a $5 bill. "You spent a long time working on that," he said. I'll probably never know if he actually liked the painting. But the $5 felt like $50. I was embarrassed but pleased.

Like my more formal hosts on tour, those who agreed to barter were true and original collaborators. And I consider the traffic court judge in Montana a creative hero. He was also a funny guy. When I assured him that one of my paintings would be worth more than the fee for speeding, he offered to raise the fine. We kept the fine low, and his court clerk, to whom he deferred on the matter of choosing, wanted one of my prints, anyway.

Bartering was not part of the original intention of the Project, which is more specifically about setting up a sustained, collaborative arrangement with hosts: an alternative micro-culture, where I can make an experimental investigation of the production, value, and function of art in a gift economy. But moving beyond conventional assumptions, rules and arrangements to get a glimpse of what else is possible – which happens with spontaneous bartering – is certainly in the spirit of the Project.

The media played up the bartering, maybe because it's more tangible and fun than discussing gift economy and market economy more earnestly. The Monitor article mentioned my bartering, and the Today Show producers (who apparently heard about my tour through the Monitor article) wanted to see it in action. When cameraman Jim Mulligan showed up at my stop in central Wisconsin, he said, "We want to film you doing three things: making a painting outside, driving down the road, and bartering a painting for a meal." That whole day felt surreal, and the resulting scene at the Norske Nook restaurant was more theater than real life: awkward, but amusing in retrospect: After eating lunch, with my host sitting beside me, a TV camera rolling, and everybody in the place staring, I did a quick painting of 2 pieces of pie. My attempt to paint Wayne Thibauld-style was thwarted by the diffuse lighting, among other factors. But it came out OK. Certainly the restaurant manager wasn't going to turn it down with NBC watching!

Surprisingly, and largely through rare good fortune, I was only turned down once when proposing a barter on tour: it was at dinner time in Cody, before I tried Cassie's, at a more upscale, self-conscious establishment called the Irma Grill. After eating at Cassie's, I made a painting of the entrance to the Irma, anyway, because I liked how the signs looked. I considered bringing it over the next day to trade, perhaps, for brunch but decided instead to keep it. It was, I thought, the best of three small restaurant/bar scenes I painted that evening, having promised Cassie's owner, Steve Singer, I'd deliver a painting in the morning. A loose impression of the entrance to Cassie's at night went to Steve. And the third, a study of bottles at the bar in Cassie's, was purchased the same morning by the owner of Cody's best gallery, who offered me $250 for it. That helped cover my gas bill for the trip.

All in all on this tour, I was successful in trading art for: dinner, breakfast and lunch, lodging at Yellowstone Park, admission to the Museum of the Rockies, and the speeding ticket.

My first week back home I tried to barter art for coffee and a muffin. The sense of need and adventure was lacking. The girl behind the counter was flustered. Maybe you can try these things at home, but I've had to go out on the road to break out of the usual roles and routines with any conviction or success.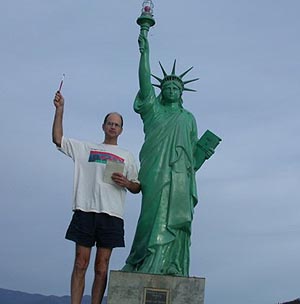 Art and Liberty.

This 8-foot Liberty is mounted at the end of a small concrete pier at the public beach in Sandpoint, ID. At night she shines a light to warn motorboats, or perhaps, since she is facing toward shore, to welcome those who yearn to be free into the lake. The water was cold in late September, but inviting.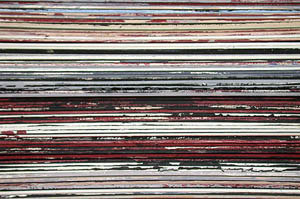 55 Panels: Before
(click image to enlarge; click back button to return).

I took this photo of the side view of my stack of panels the day I flew out to Seattle to start the tour. Selling my home car, getting a one-way ticket to the west coast, and having a car I'd bought waiting there sort of foirced me to go ahead with the tour, however daunted I was.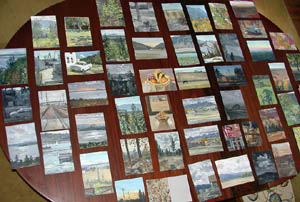 55 Panels: After
(click image to enlarge; click back button to return).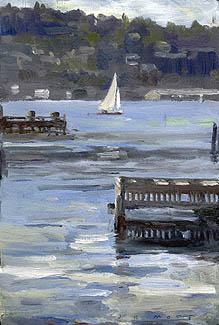 Seattle, WA # 7: Sailboat, oil on panel 9" x 6".
(click image to enlarge; click back button to return).

This was the last painting I did in Seattle, and one of the 55 seen on the table in the photo above. More will be posted soon. This is one of several new images now available as new limited edition prints. Please contact me for more info.
















video:



(click photo to link to 4-minute Today Show "American Story" about the 2007 IAP tour; click back button to return).