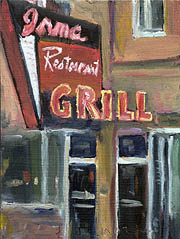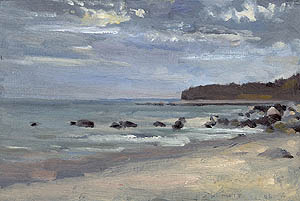 October Beach 10/06. Click to enlarge.

4 GREAT WAYS TO SUPPORT THE ARTS:
From a $2 greeting card to a $35 print to an original painting or a painting commission ranging from $350 to $3500, you can help keep the arts and the Itinerant Artist alive, while getting something unique, beautiful and soulful for yourself or someone you like a lot:

Check out the Gift Shop, Print Portfolios and Commissions links, or contact me directly.

New for 2007: Three coastal scenes and several new 2007 Tour scenes have been added to the selection of Itinerant Artist Project Giclee Prints now available through this website. All sales support the Itinerant Artist Project.


FEATURED PAINTINGS:

Above left is Lopez Island #1: White Truck, painted on the first week of the latest IAP Tour. Check out the 2007 Tour link for more images.

Next at left is Cody, WY #5: Irma's Grill. Another bar in town, Cassie's, welcomed my offer to trade art for a meal; a headwaitress at Irma's turned me down and missed the chance to get this painting.

Shown at lower left is October Beach, done at Isabella Beach on Fishers Island during the 2006 IAP tour.


All originals are oil on panel, about 6" x 9", 4" x 6" and 6" x 9". These images are also among the latest additions to the IAP print collection .

Signed, limited edition, archival prints of these and several other paintings are available, framed or unframed. Just follow this link to: Fine Art Prints.