The artwork from the Itinerant Artist Project makes a visually stimulating and thought-provoking exhibit, available by arrangement to institutional galleries and museums. IAP exhibits regularly garner enthusiastic reviews from both the critics and the general public.

The Itinerant Artist Project has generated more than 550 small-panel paintings of the varied American landscape: cities, suburbs, farmland, factories, and natural habitats, from coast to coast. Most of these paintings are available for display. Selections from the collection, ranging from 20 to 125 pieces, have been exhibited in various galleries and small museums.

While each of the paintings has its own aesthetic merits, the interplay between them, the sense of chronology and progression, and the ideas behind the project help to produce an overall effect greater than the sum of its parts.

Several short essays explaining the project, the ideas behind it, and the logistics of being a 21st-century itinerant painter are available as wall text (two of these essays are reproduced on this website). Maps and a short video add further dimensions. When feasible, I'm happy to give gallery talks to accompany any exhibit.

In addition, I am open to making an IAP tour in the city or region in which the exhibition is held, either during or in advance of the exhibit. This stimulates public engagement and can also generate fresh paintings for inclusion in the exhibit.

For more information, or to make arrangements, please contact me.
"An experience of connection, honesty, and beauty..." *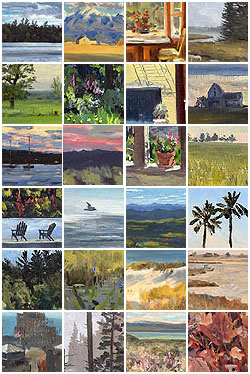 *Rebecca Rafferty
(see more reviews)